Pesto sandwiches are my favorite sandwiches!
If you've been around my blog a bit, you may have noticed that I have a bit of a carb and cheese obsession (enchilada casserole, meatball subs, turkey burgers). Don't worry, I eat plenty of veggies. They're just not as exciting to talk about!
My pesto sandwiches are inspired by a day trip I took to Napa Valley with my sister a couple of years ago. She's a bit of a foodie and much more adventurous than I am. Anytime she travels, she always finds the best restaurants and bakeries to visit and try their food or treats.
My sister actually lives in Chicago and I live near Los Angeles, but we happened to both be in Northern California at the same time. She heard of this French bakery that is known for their macarons and we set off on a dessert mission.
When we got there, we quickly saw that they offered much more than amazing macarons! They had croissants, scones, tarts, and all kinds of bread. So much deliciousness!
But it was around lunchtime so our eyes naturally found their savory items. In addition to sugary treats, we ordered these sandwiches with fresh basil, tomatoes, and brie on baguettes. They were amazing! The flavors were so simple yet incredibly satisfying. It was just a perfect combination in every way.
One day, I was craving those same tastes so I improvised and came up with my own version: Pesto, tomato, and mozzarella all baked together on ciabatta bread. Almost as good as the original!
I make pesto sandwiches for dinner a lot now because they never take more than 20 minutes to have on the table (10 if you don't bake them). If you're fancy and make your own pesto, like my sister, it'll only take a slight bit longer.
In addition to being quick, pesto sandwiches are a hit with everyone in my family. Goose will literally pick up a tomato and bite into it like an apple, I kid you not! She always hangs out in the kitchen trying to swipe tomato slices off the counter.
And if you're feeling carnivorous, this is super easy to add meat to. Bacon, grilled chicken, cold cuts. Whatever sounds good to you will probably be delightful!
If you need a quick meal for your family, give my pesto sandwich recipe a try!
Do you have any recipes inspired by a trip? Tell me about it in the comments!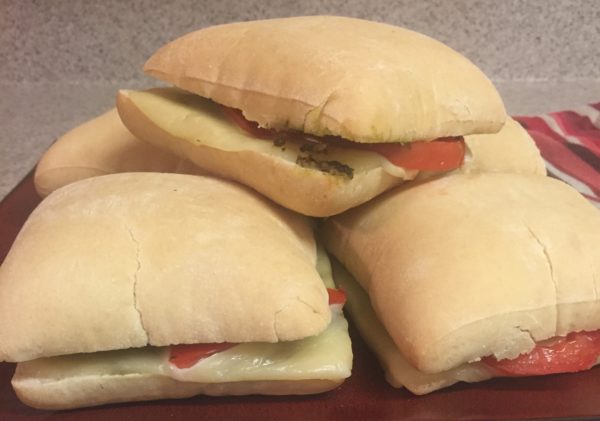 | | |
| --- | --- |
| | |
Preheat oven to 375 degrees.

Use a spoon or spatula to spread pesto generously on both sides of each ciabatta roll.

Place one slice of mozzarella cheese on the bottom half of each roll.

Cut tomato into 8 slices and lay one slice in each roll.

Close rolls, place on a baking sheet, and put in the oven for 8-10 minutes, until cheese melts.

Take out of oven and serve hot!
Can also be enjoyed cold.
Add bacon or cold cuts to make a meaty sandwich.