I tried a new recipe last night and I am still so giddy about it that I have to share it today. Have you ever had sweet potato enchilada casserole? It's better than I ever expected and way simple! Plus, it's toddler and husband approved so you can't beat that. Scroll straight to the bottom if you just want the recipe or stick around and see how this meal came about.
If you've been around my blog a bit, you know that I'm neurotic about meal planning. I love laying out my meals for the week and not stressing about what to cook each night. So you can imagine my panic when I woke up yesterday to the realization that I didn't have anything planned for dinner. Normal people would probably just call it a loss and pick up some takeout, but I was determined to cook for some inexplicable reason.
I took a quick survey of the kitchen to find a sweet potato (which I was supposed to puree for Belly) and decided to base our meal off of that. A quick Google search lead me to enchilada casserole. It had never crossed my mind to put sweet potatoes in enchilada sauce, but I was down to experiment.
The only problem was I didn't have the rest of the ingredients and I didn't feel like leaving the house to get them.
And that's where Amazon Prime Now
 came to the rescue! Do you have this in your area? I've only used it a few times, but it's been a lifesaver! You just schedule a two-hour window for your delivery to be made and it comes to your doorstep (you do have to be home, though, if you order something perishable).
And they offer more than just food. Need to buy a gift? Phone charger? Luggage? Dog food? Mouthwash? Sunglasses? There's a good chance you can order it here.
But most of all, I love Prime Now because it is FREE with your Prime membership. So you can get whatever you need same day and it doesn't cost anything extra (unless you choose to leave a tip for the delivery person). This post is not sponsored by Prime Now, I just think they're really, really great!
So anyway. I'm loving sweet potato enchilada casserole and Prime Now! Try them both!
Want more easy recipes? Try my one pan meal, meatball subs, or turkey burgers!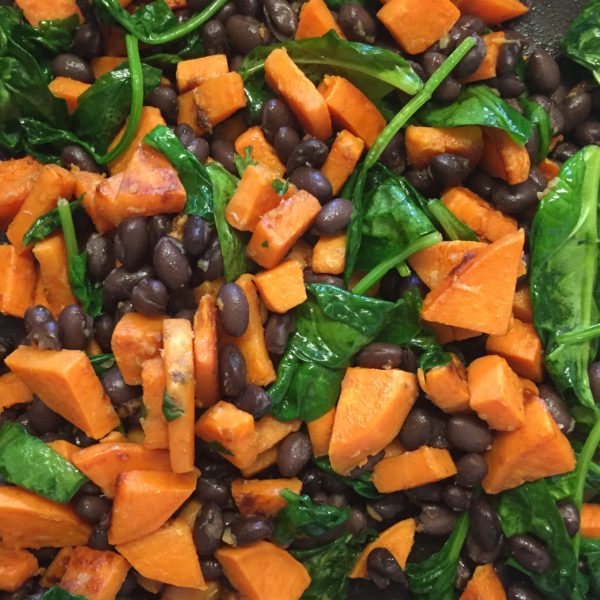 | | |
| --- | --- |
| | |
Preheat oven to 425 degrees F and grease a 13x9 pan.

Heat oil in a skillet on medium heat. Mince garlic and chop sweet potatoes into small pieces.

Cook garlic and sweet potatoes in covered pan for 15 minutes. Stir every few minutes.

Once sweet potatoes are tender, add black beans and spinach to pan. Mix ingredients together until spinach is cooked.

Place 5 tortillas in bottom of 13x9 pan. You may need to halve them and arrange to completely cover the pan. Pour 1/3 of the enchilada sauce over tortillas. Spoon out half of the sweet potato mixture. Cover with 1 cup of cheese.

Layer last 5 tortillas and cover with remaining enchilada sauce and cheese.

Bake in oven for 25-30 minutes, until cheese on top has reached desired goldenness 🙂