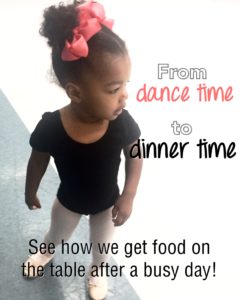 I am a dance mom.
Not the crazy kind, though. Just a regular mom with a child who dances.
We started Goose in a tap and ballet combo class this Summer. To say she loves it is an understatement! She asks everyday if she gets to go.
It's a group of all two-year-old girls so her teacher is very patient and has a fun, age-appropriate structure to the class. It's the cutest thing you'll ever see! I like it because they learn basic technique, work on coordination and balance, and practice following directions in a group setting. Goose is actually a pretty good listener considering how busy they are the whole time. She's already learned a lot and practices her moves all over our living room. Dance class is her favorite activity of the whole week!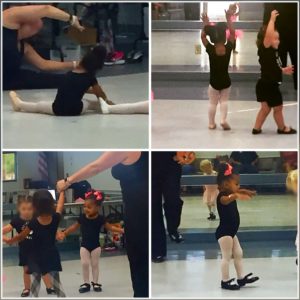 The only part that gets tricky for us is that dance class is during the late afternoon, when I'm usually making dinner. I mentioned in my meal planning post that I cook at least 5 nights a week, but that doesn't always mean standing in front of the stove for hours making a gourmet meal (I don't actually ever make a gourmet meal). For one of our recent dance days, I decided to pull out my trusted slow cooker to make one of our favorite slow cooker meals: meatball subs! I used meatballs, marinara, shredded mozzarella cheese, spinach, and buns or rolls. This meal has never let me down!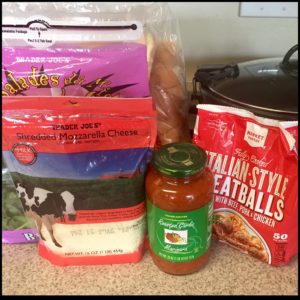 I used frozen, cooked meatballs so it's really just a matter of warming them up. I heated them with the marinara on low for 4 hours, but you can also do high for 2. It doesn't make a huge difference because they're already cooked. By the time we were home from dance, we could smell the delicious aroma of tomatoes and garlic from outside. Yum!
Next step is assembly. We happened to have some jumbo hot dog buns leftover from a barbecue so I placed six of them in a 13 x 9 glass pan. I don't like the bread to be completely soaked in marinara so I lined each bun with a small handful of spinach. (Put the rest of it in the freezer to make smoothies later!)
After that, I sprinkled a little mozzarella cheese into each and then scooped 5 meatballs into each bun. I followed that with another sprinkle of cheese. If you want to use more spinach or any other toppings (olives, peppers, mushrooms) go ahead and put those on top and cover with a little more cheese.
At this point, I'll see how much time I have left before my family is a hangry mess. If I think they can wait 10 more minutes, I'll stick the pan in the oven just long enough to melt the cheese and barely toast the buns. This step is not essential, but melted cheese makes everything better.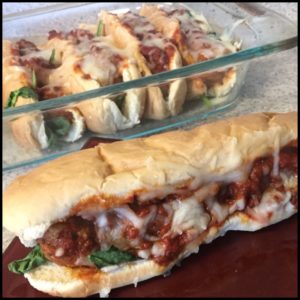 Just because we aren't home in the late afternoon does not mean that we have to eat out. Slow cooker meals aren't time consuming and they do most of the work. And my tiny dancer is always happy and full after we've eaten our meatball subs!
So is Goose going to be a professional dancer? Time will tell, but I really want both girls to try a little bit of everything. Soccer, basketball, karate, gymnastics, maybe some instruments or an art class. As they get older, the possibilities are endless!
For now, I'm cool with just being a dance mom.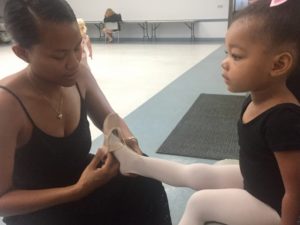 Love easy meals? Check out my recipes for one pan, sweet potato enchilada casserole,  and turkey burgers!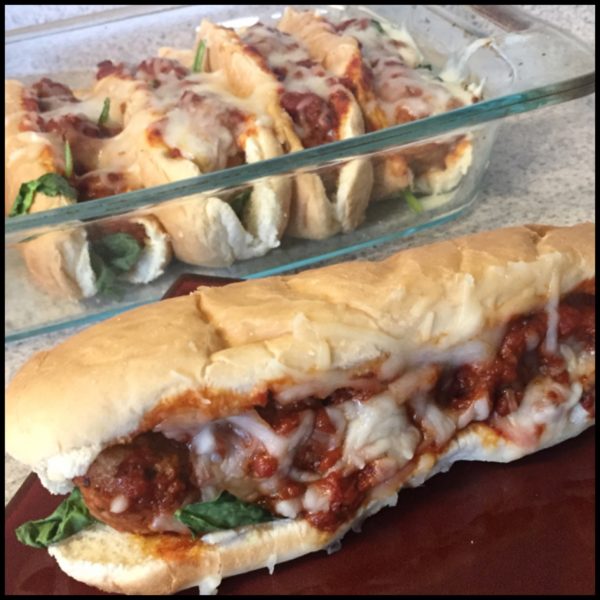 | | |
| --- | --- |
| | |
Pour meatballs and marinara in slow cooker. Cook on low for 4 hours or high for 2.

Preheat oven to 375 and put buns in 13x9 pan.

Line buns with spinach and cheese. Ladle 5-6 meatballs into each bun and top with more cheese.

Put in oven for 10 minutes to melt cheese.