Since my last post was about meal planning, I thought I'd share one of our favorite recipes: one pan!
"One pan" is a frequent dinnertime phrase at our house. It simply means we are going to eat a delicious combination of vegetables and meat that was cooked all together in, you guessed it, one pan. We love one pan because they're so versatile and never get boring. You will see very quickly that there is nothing fancy about my cooking, but pretty much every time I make it, I try something a little bit different.
One pan meals are also awesome because they're easy to cook and easy to clean up (the best part!). You just cut everything into bite size pieces, season it, and stick it in the oven. Chopping can be a little tedious sometimes so I look for opportunities during the day or week to chop. For example, my older child likes to take 90 minutes to eat breakfast some mornings, not an exaggeration, so I can get a lot of meal prep done during this time.
I was in the mood for a sweet potato so I decided yellow bell peppers, zucchini, and broccoli would go well with it. I also love the way the colors look together. So vibrant!
Keep in mind roughly how long each vegetable takes to cook when you're cutting. A sweet potato cooks way slower than a zucchini, for instance, so I slice the sweet potato into pieces that are a little thinner.
I really like having broccoli in my one pan, but I don't always love the way it comes out of the oven. If I decide to include broccoli, I'll microwave or steam it separately and then mix it in when everything else is done cooking. Don't worry, it still absorbs all of the flavors.
I used to prefer my food to be very bland, maybe a little salt and pepper. Lately, I've enjoyed experimenting with different spices and seeing what goes well together. A little cloves are perfect for sweet potatoes. Smoked paprika is a newer favorite of mine, especially with fish. Someday I might get into the whole fresh herb thing, but I'm not quite there yet.
As far as meat goes, it's not totally necessary, but my husband doesn't consider anything vegetarian a full meal. Haha! I'll either use chicken breasts or chicken Italian sausage in my one pan meals. Just cut it up or break it into small pieces and spread out on top of the veggies.
I put it in the oven for 20 minutes to start, check on it, and probably cook it for another 10-15 minutes. If you like super tender veggies, it can go a little longer.
We usually make brown rice to go with this, too, but it's not essential. Tastes great either way!
One pan is always a winner at our dinner table! Goose eats everything in this recipe, but she is a bell pepper FANATIC and will always try to steal them from our plates. These meals are an awesome way to make sure your kids (and partners) are getting lots of yummy veggies!
My other favorite combination is a russet potato, red bell pepper, yellow bell pepper, and green beans. The more colorful, the better!
What blend of vegetables do you like together? Tell me in the comments and I'll give it a try!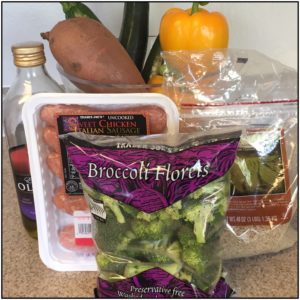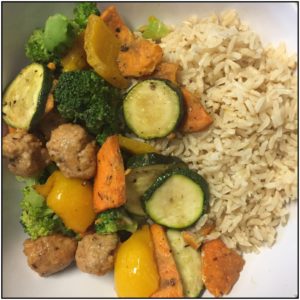 One Pan Recipe
Ingredients
2 tablespoons olive oil, divided
2 yellow bell peppers
3 zucchini
1 large sweet potato
1 lb Italian sausage
pinch of cloves
1/2 teaspoon sea salt, pepper, thyme
1 teaspoon garlic powder and oregano
12 oz bag of broccoli
Instructions
Preheat oven to 375.
Line your baking sheet with foil and drizzle with 1 tbsp olive oil.
Chop peppers, zucchini, and sweet potato into small pieces and place in baking pan.
Sprinkle seasoning and remaining olive oil on vegetables.
Stir everything in baking pan.
Take sausage out of casing and break into small pieces. Place on top of vegetables.
Place pan in oven and cook for 20 minutes.
Stir everything in pan and cook for additional 10-15 minutes.
Meanwhile, microwave broccoli according to package directions.
After taking pan out of oven, mix in broccoli.
Serve and enjoy!
*Optional: Serve over brown rice