We always have frozen bananas in our freezer. You may wonder why we always have frozen bananas in our freezer and the answer is quite simple: I have a two-year-old.
She is usually a great eater, I rarely ever complain about her being picky.
But she never finishes a banana. Never.
She asks for one and of course I have to give her the whole thing because Heaven forbid I "break" the banana and give her just the part I know she'll eat. So she takes 3 nibbles and then declares she's done.
What am I supposed to do with the rest of it? I don't want a banana. No one else wants a banana. And there's no way she's going to eat the same banana when she's hungry again in an hour. So into the freezer it goes.
But it's all good because we use these frozen bananas to… Make smoothies! The easiest and most delicious banana spinach smoothies!
It's been extraordinarily hot lately (because it's Summer in SoCal) and these smoothies are so wonderfully refreshing! All we use are frozen bananas, frozen spinach, orange juice, and Greek yogurt.
While we have Goose to thank for the frozen bananas, I'm responsible for the frozen spinach. I am notorious for buying a bag of fresh spinach, using a handful, and then the rest just sits there staring at me every time I open the fridge. So I learned to throw it in the freezer and save for smoothie days!
I love using frozen bananas and frozen spinach because you don't need ice. The smoothie is perfect and cold and you don't have to worry about it becoming watered down.
And don't worry, these banana spinach smoothies are super sweet and creamy with just a slight citrus-y taste. You cannot taste the spinach AT ALL! If you have extra fruit laying around your kitchen, you can even toss that in, too. Pineapple, mango, or strawberries are especially yummy.
So I don't mind my silly little Goose and her tendency to sample bananas. It just means we get to make more smoothies together!
Give it a try and let me know what you think!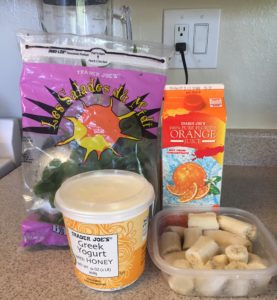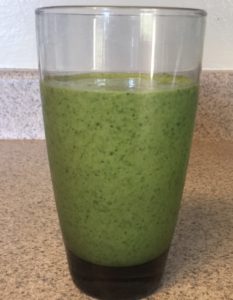 Love quick and easy recipes? Try this one: Homemade Peanut Butter