For week two of homeschooling, our theme was "Green Eggs and Ham
"! This has been a favorite book of Goose's for the past few months and I knew we had to include it. In addition to trying our green eggs and ham recipe, we studied the letter S, the number two, and circles and ovals.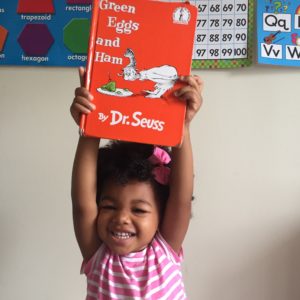 We started by reading the book (for the 197th time) and then practiced retelling the story. Retelling is a comprehension skill and shows me how much she understood from what we read.
Here are a few general questions you can use to get little ones thinking about a book:
Who was in this story?
What did they do first?
What happened at the very end?
How do you think the character felt about ___?
What part did you like?
What part did you not like?
It's very basic right now, but I'll ask more complex questions as she gets older and her books have more of a plot.
Our week would not have been complete, of course, unless we made green eggs and ham. Goose is actually not the biggest fan of eggs, but she loves avocado. I decided to make deviled eggs using avocado instead of mayonnaise. The avocado was a great way to make our eggs green and she thought it was delicious!
To make green ham, I have to confess that I did use food coloring *gasp*. I mixed one drop with half cup of water and let a few slices of ham sit in it until they held a green color. They look kind of teal-y in pictures, but they were definitely green in person.
Goose thought the whole process of turning everything green was amazing and she was so eager to eat it. She ended up loving the avocado mixture and ham, but tried the egg whites and decided they weren't her thing.
This was a really fun, simple theme. Give the recipe a try and let me know how it goes!
Make sure to check out "A is for Apple Week" for more fun home school ideas!
Like easy, kid-friendly recipes? Check out our banana spinach smoothies and homemade peanut butter!

Add one drop of food coloring to 1/2 cup of water in a shallow dish. Stir and set ham slices in dish for 10 minutes.

Meanwhile, hard boil eggs.

After eggs are done boiling, let cool in cold water. Once cool, peel the shells off.

Cut eggs in half lengthwise and scoop yolks into a bowl.

Add avocado, salt, pepper, and paprika to bowl and mix until blended well.

Spoon or pipe yolk mixture into egg white halves.

Plate eggs and ham and enjoy!