This is a guest post by my beautiful friend, Molly. She stopped by to share a hilarious experience with her husband and one-year-old son as well as a few bathtub hacks to make your life a little easier!
It finally happened.
I knew it would eventually, I just didn't know when. And it was everything and more.
Let me set the scene for you: It's a weekday evening and I had just gotten out of the shower. I'm getting in my pajamas and my husband is finishing giving our one-year-old son a bath. We're in the bathroom discussing a trip (an adult only vacation) we're planning to celebrate our 30th birthdays next year.
Side note: This is going to be like a second honeymoon and I couldn't be more excited! I'm looking at turning 30 as the last time (until 40) that I really get to celebrate ME. And so that's what I'm going to do because I deserve it. I guess my husband deserves it, too 😉
As we review the sights we want to see, my husband stops me mid-sentence.
"You're going to have to do this. I just- I just can't handle it," he stammers and he motions to my son as he quickly exits the bathroom.
And there it was…
My son pooped in the bath!
Thankfully it was, um, solid. My son didn't even flinch. He was still playing with his toys! So I scoop him up and wrap him in a towel. I check for… erm… any debris that may be on his body, but we're in the clear.
Usually, my son hates getting out of the bath, but he didn't seem to mind this prompt exit. I can only imagine how entertaining it must've been to watch me try to dry off a wet wiggly baby and simultaneously not die from laughing.
I look across the room to the bed. My husband is lying flat, face down and I can't tell whether he's laughing or crying. Most likely it is both. He is not, and never will be, the get down and dirty parent -at least when it comes to bodily fluids. And this delights me so much.
I'm sure there will be much more poop in the future -we're only on our first kiddo and haven't even endured potty training yet!
Bathtub Hacks
I wish I could insert some witty parenting or marriage advice here, but there is none. It was just one of those parenting moments that you get to share with your partner.
But I do have a few pool noodle hacks for making bath time a little easier and safer (assuming there's no poop).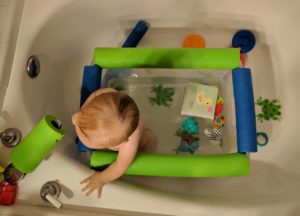 Shower Door– My first hack was inspired by a pool noodle I saw placed at the top of a door to keep tiny fingers from getting slammed. So I bought a pool noodle and cut it along one side (ok, I had my husband do it). Then, we placed it along our glass shower door that my son is so fascinated with. One less heart attack a day for us.
Tub– Shortly after, we realized our little monkey wasn't so little. Too big for his baby tub, in fact. This posed a "mommy challenge" since our bathtub is way too big for him to sit in by himself, even with us at the edge. I'd seen other hacks with babies sitting in a laundry basket in a tub. So I married that idea with the pool noodle hack. We bought a clear, large storage bin and a few more pool noodles (super cheap) and placed the noodles around the sides of the storage bin. POOF! Insta-toddler-tub!
Faucet– With the extra noodle we had left, we put it on the faucet to keep that safe, too! It isn't perfect, but it works for us.
These bathtub hacks are cool because you can make them your own with different colors and sizes.You definitely have to watch to see if your child bites the noodles because you wouldn't want them swallowing that stuff. And of course, never leave your child unattended in the tub!
Good luck! Happy bathing!
Has your child ever pooped somewhere they weren't supposed to? Do you have any cool hacks like this? Tell us about it in the comments!
Meet Molly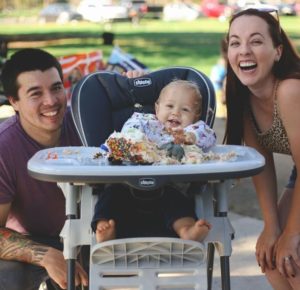 Molly has been married to her husband since 2014. They are raising their charming 14-month-old son and two dogs in Southern California. In addition to being a doting wife and mommy, Molly is a fulltime substance abuse and mental health counselor.
Molly earned her Bachelor of Science in Child Development, with a minor in Psychology, from California State University, Fullerton. She has years of experience working with kids of all ages as a nanny, tutor, and assistant director at a children's gymnastics facility.
With the many challenges of raising a tiny human while working full time, Molly is constantly seeking ways to make herself a better parent and make the most of her time with her family.
In her free time, you can find Molly cheering on her favorite football, baseball, and hockey teams, baking delicious treats, and making her own baby food.
I can't wait for Molly to join us at The Cinnamon Mom again!
Check out some more tips for babies and toddlers: snack time must-have, activities for babies, and how to tame tantrums!