My family is completely obsessed with WeeSprout reusable pouches! They have made life easier in so many ways and I can't imagine a more useful food product for my baby and toddler!
Two years ago, when Goose was a baby, I was so excited to introduce solid foods to her! I went all crazy and made batch after batch of homemade purees for her to try. Peas, carrots, sweet potatoes, butternut squash, blueberries, pears, apples… The list goes on!
One problem: Goose was not keen on being fed. She's been independent from the day she was born and she did not want to eat anything that involved us feeding her. Since she was obviously too little to spoon feed herself, I started giving up hope on my puree dreams.
I stumbled upon WeeSprout reusable pouches and figured they would be a way for Goose to feed herself (and enjoy all of the purees I'd made).
SUCCESS!!! She was instantly hooked!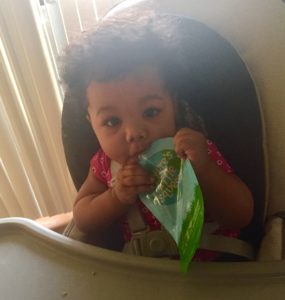 In addition to being super eco-friendly, here are the top 5 reasons we love WeeSprout reusable pouches:
1. They're Versatile
There are so many different types of food you can use these pouches for. Our favorites are homemade applesauce, banana spinach smoothies, yogurt, and baby purees.
2. Easy to Fill
There's a zippered bottom that opens up wide enough for you to just pour or spoon out your contents. You don't need a fancy bottle or funnel. No mess, no fuss.
I fill the pouches in advance so we can grab them on our way out of the door or Goose can help herself if she wants a snack during the day.
3. Easy to Clean
Place your pouches on the top rack of the dishwasher or wash with a bottle brush in soap and water. There aren't any tricky corners or flaps so you know the whole thing is getting clean. It literally takes 5 seconds.
4. Cost Effective
Think about how much money you spend on disposable pouches from the store. It's insane for the small amount of food they hold and the fact that you just toss it in the trash.
You can use WeeSprout pouches infinite times so you're getting WAY more than your moneys worth. We've had the same set for almost two years and they're still in perfect shape. I recently bought another set just to keep the fridge and freezer stocked for both kids (YES, you can freeze them).
5. Super Kid-Proof
These things are so durable, let me tell you! They have definitely withstood the test of time and toddler. I'm convinced they are unbreakable!
Check out WeeSprout for reusable pouches for food on the go! Shop Now!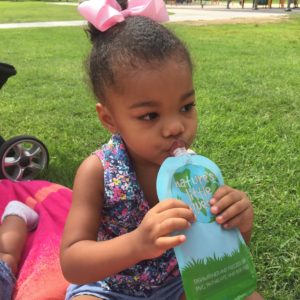 Just TRY THEM!
Order yours now and save 32% on WeeSprout reusable pouches!
On top of having a fantastic product, they are an amazing company with unmatched customer service. If you have any questions, they are super attentive and responsive.
I know your family will love WeeSprout as much as mine has!
Save on your WeeSprout reusable pouches today!
Try our recipes for homemade applesauce and banana spinach smoothies!