This guest post comes to you from a member of my mommy tribe, Ameerah. In addition to being one of my dearest friends, Ameerah is a wife and mommy extraordinaire always in the pursuit of a fit mind and body. Here she is with a recipe for healthy gingerbread cookies for you and your family to enjoy!
I'm a vegetarian.
That being said, I have yet to raise a perfect child free of sugary waffles, donuts, fruit snacks, and KitKat candies from their adoring grandparents. Insert guilt emoji. You would think that someone who made the decision to watch what she puts in her mouth would apply the same level of caution when monitoring what her mini-me's ingest. Well, for the most part, I do, but when we act on impulse it's more than likely for a sugary treat!
What I have done is found a balance between my "ideal world" and the real world.
My ideal world is free from over polluting my daughter's little bodies with gluten, wheat, and soy. In my real world, I've allowed occasional splurges by mixing in daily doses of green smoothies alongside a mostly vegan diet. So far, this bit of a healthy balance is totally doable resulting in my version of the best of both worlds for my girls (Pats herself on back).
The holiday season, however, has always been a bit more challenging when it comes to controlling our intake of cookies, cakes, and pies oh my. I mean, the last three months of the year can become quite tricky eating at relative's homes, holiday parties, and all of the delicious seasonal treats displayed ever so beautifully at our favorite hangouts (Target, Trader Joe's and Whole Foods Market). #MomLife
Healthy Cookie Recipe
This year I plan to continue to allow myself to indulge in sweet goodies with my little ones munching right beside me. However, instead of grabbing whatever looks good we will take a bit of preparation and indulge in recipes that allow us to enjoy our sweet treats, explore fun messy baking as a family, all while lessening mommy guilt (possibly even future dentist bills).
Try this simple recipe on for size that we just love! Not only is it vegan, gluten-free, and soy free but these cookies are packed with the sugary goodness that's sure to bring a smile to your family's littlest faces.
SoDelicious Gingerbread Men Holiday Cut Out Cookies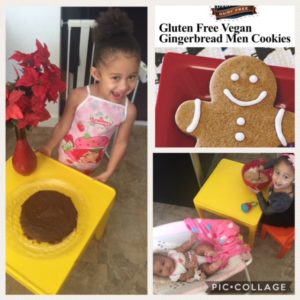 Extra tip: we use gluten-free sprinkles, icing and metal cutouts to create small gift bags of these gingerbread cookies for our friends and family. Trust me, no one will know the healthy substitutes you used until you tell them. But their bodies will thank you later!
Cheers to a happier healthier year ahead for you and your precious family members.
Miracles & blessings,
Ameerah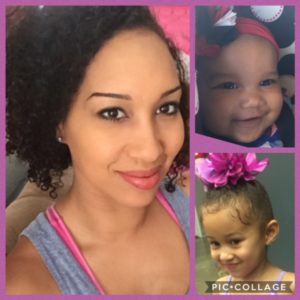 Ameerah Massey is happily married to Barry, a published author, a small business owner, a Commissioner for the City of Long Beach, the founder of non-profit org MiracleGirls Leadership Academy, and a proud vegetarian (almost vegan) mama bear to Josephine (age 3) and Baby Zuri (4 months).
Although Ameerah has spent over 15 years of her life dedicated to education and youth development, she is currently most passionate about raising her children on her own terms and encouraging them to be compassionate, outspoken, educated, exuberant God-fearing leaders within the challenging world around them.
In addition to embracing a healthy vegetarian lifestyle for her family, they strive to laugh loudly as often as possible and find or create fun and adventure within each day (no matter how sleep-deprived mommy happens to be).
Want more delicious and simple vegan (gluten-free, soy-free, wheat-free, low sugar) product reviews and recipes for your family? Stop by @MyLittleVegetarians, launching 2018!
Thanks so much for stopping by, Ameerah!
Here are a couple more healthy indulgences from The Cinnamon Mom: green smoothies and homemade peanut butter!
Did you see Molly's guest post? Read it here!