I will never forget when Goose was a baby! I couldn't wait to start feeding her homemade baby food! As a first time mom, I had all of these visions of the perfect little purees I'd neatly spoon feed her during her exciting introduction to the world of solid food.
Boy, was I surprised when she turned six months and reality hit.
I was sleep deprived, teaching full time, pumping part-time, and just not transitioning into parenthood as gracefully as I'd hoped. The idea of making baby food seemed daunting and far out of reach.
That was until I actually tried making baby food and discovered how incredibly easy and fast it can be! I'd never been busier or more exhausted in my life, but I was still able to incorporate homemade baby food into my schedule.
Now that Belly is six months, I've been able to dust off my skills and start making purees again. I'm certainly not any less busy with two kids, but it's important to me so I make it work.
I know what some of you are thinking.
"Oh my gosh, I wish I had time for that!"
"Wow, that sounds so hard!"
"I could never do that!"
Truth is, it only takes a few minutes in the kitchen and requires basically no cooking ability.
I have complete faith that even the busiest mommies (and dads) can squeeze in a few minutes every couple of weeks to make nutritious, yummy, and inexpensive meals for your littlest family member.
Side note: I highly discourage you from purchasing or requesting a baby food maker. You'll likely get very little use from it and it'll take up unnecessary storage space in your kitchen. There's a good chance you already have everything you need in your kitchen so just use what you've got.
Just follow these steps and you, too, can become a master at homemade baby food!
Step 1: Cook
These are the three main methods that I use. Chop your fruit or vegetables into large pieces and choose whichever mode is most convenient for you. I don't usually peel my food because I'm slightly lazy… And it's going to end up all mixed up anyway.
The quantity is totally up to you. I like making baby food in bulk because then you don't have to make it as often.
(No cooking necessary for "smashable" foods like bananas, avocado, and blueberries. Just jump to Step 2 for those!)
Slow cooker– This is my personal favorite. I drop the chopped pieces in, barely cover the bottom of the slow cooker with water, and leave on high for 3-4 hours. I don't have to think about anything, just come back in a few hours and everything is perfectly soft.

Great for: apples, pears, peaches

Steam– I steam my produce on the stove for 10-15 minutes.

Great for: sweet potatoes, butternut squash, broccoli

Microwave– The microwave is perfect if you just want to zap your produce super fast. I usually start with 2 or 3 minutes and then just add more time as needed until the food is soft.

Great for: peas, carrots, green beans
You can do one type of food at a time or experiment with some combinations. If it sounds tasty to you, then your baby will probably like it!
Step 2: Puree
Time to smooth it out! I like using our food processor
, but a blender works just as well. Toss everything in and turn on until it's all pureed.
If your mixture is too thick or you have trouble blending it, add some water or breast milk to make it easier.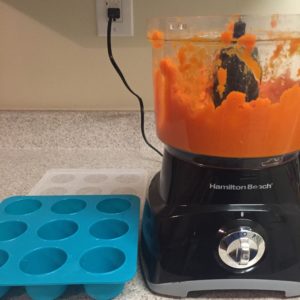 Step 3: Store
After you make your purees, you can either put them in the fridge or the freezer.
Fridge– I'll fill up a few of our WeeSprout Reusable Pouches so they're ready to grab over the next couple of days. Read all about my obsession with these pouches here!
Freezer– I pour my mixture into these really handy silicone freezer trays. Let the purees freeze solid and then pop them into a labeled Ziploc bag. When I'm ready to feed to my baby, I'll just stick a little pod in the microwave for 30 seconds. If you want to take your puree on the go, put a frozen pod in a pouch. It'll thaw on its own and be ready for you to feed baby later.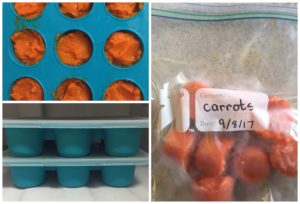 Ta-da!
Cook. Puree. Store.
See? Totally doable!
The biggest key is to plan for making baby food. I don't necessarily set aside extra time, but I tell myself what steps I can do while I'm already in the kitchen working on other things.
Maybe I'll chop some vegetables for the slow cooker while dinner is cooking in the oven. Maybe I'll let some carrots steam while I'm washing dishes. Maybe I'll puree some blueberries while the girls finish lunch.
Just sneak in a couple of minutes here or there and it'll get done. At the very most, I'm only adding 15 minutes to my total weekly time in the kitchen.
We're ALL busy moms. But you can absolutely make small adjustments to allow for things that matter to you. Give it a go and see for yourself how easy making baby food is!
So what mixes are you going to try?
Let me know in the comments and then come back to tell us what your baby enjoyed most!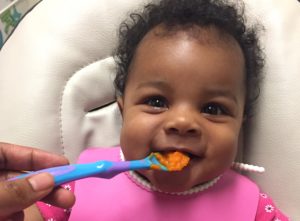 *Please follow your pediatrician's advice for when to introduce solid food and which types of food are suggested for your baby.
Read more about why meal planning is vital to our family!
See how much I L-O-V-E these reusable pouches!
Learn about how we make applesauce!