Earlier this Summer my family and I took a six-hour road trip to the Bay Area and brought along a big bag of trail mix to snack on. Over the course of the trip, all of the dried fruit and chocolate chips were consumed and we were somehow left with a bag of peanuts. I hate throwing food away, so I just stuck the bag in the pantry when we got home and hoped one of us would be desperate enough to eat them later.
Coincidentally, we were also out of peanut butter. So I grabbed the bag of peanuts and asked myself, "How hard can it be to make my own peanut butter?"
Turns out, not hard at all! I picked up some more peanuts and experimented a few times until I found the right recipe for us. I use a 16oz bag of roasted and unsalted peanuts, sea salt, coconut oil, honey, and a food processor. The salt, oil, and honey are totally optional, but a jar of plain peanuts would not be okay with my husband.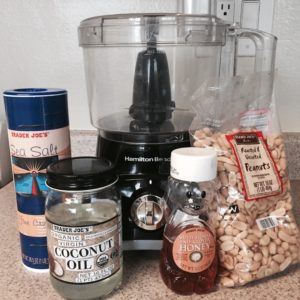 I'm sure there is a technical and proper way to add each ingredient, but I have two very small children who always want my attention so I just put everything in the food processor all at once. And it always tastes delicious!
I love this processor: Hamilton Beach 8-Cup Food Processor
Altogether, the food processor runs for about five minutes. I might stop every now and then and let my two-year-old, Goose, use a spatula to scrape any peanuts off the sides.
This recipe is foolproof, my friends. It's all a matter of preference! If you like very creamy peanut butter, add more oil and let it mix longer. If you like it sweet, add more honey. If you want a saltier taste, sprinkle more salt. It's whatever you want because it's your peanut butter. I've even used a similar process to make almond butter and cashew butter, it's all delicious!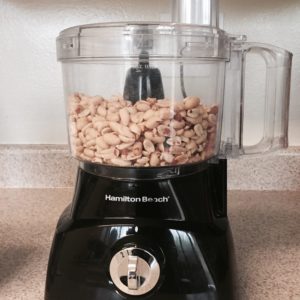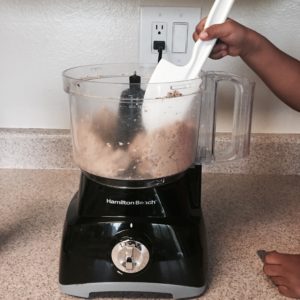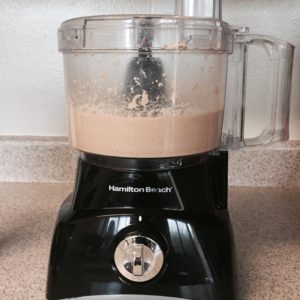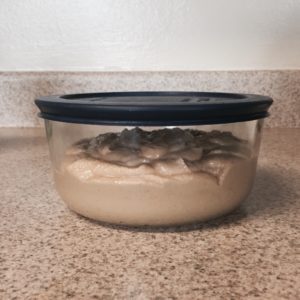 After the peanut butter has passed Goose's taste test, I'll scoop it into a glass container. It's usually gone in a week so I keep it in the pantry, but you may need to refrigerate yours if you don't plan to eat it as quickly.
We enjoy our homemade peanut butter on bread or with apples and celery. Sometimes Goose will ask for a spoon and dig into the jar because it's just that good!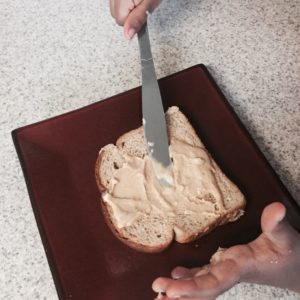 Peanut butter is a staple in our home and I was so excited when I realized how easy it was to make and customize my own. Try making your own and tell me what variations you prefer!
DELICIOUS HOMEMADE PEANUT BUTTER RECIPE
INGREDIENTS
16oz bag roasted unsalted peanuts
1/2 teaspoon sea salt
3 tablespoons coconut oil
1 tablespoon honey
INSTRUCTIONS
Place all ingredients in food processor and combine for 4-5 minutes. Stop as needed to scrape peanuts from sides and process to desired consistency.
Add more or less salt, oil, and honey to taste.
My banana spinach smoothies are another super-fast recipe!
Our family devours these quick pesto sandwiches!
Homemade baby food is also super easy!